Thank you for registering for Make-It/Take It Hanging Baskets!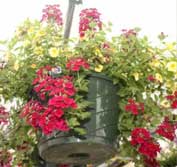 MAKE IT/TAKE IT HANGING BASKETS
Saturday, May 16, 8:00-5:00
9:00 am || $25 class || $45 for two
Taught by Master Gardener Heather Coen, plant your own 14″ high-end hanging basket or your own container with our help. Gorgeous plants of your choice.